Vegan Outreach is offering touring apprenticeships to energetic, upbeat, and positive activists interested in creating real change for animals. As a Community Outreach Apprentice with Vegan Outreach, you'll learn effective grassroots advocacy skills, meet like-minded people, and engage in person-to-person outreach.
Touring apprentices will work closely with our traveling Community Outreach Coordinators and receive a stipend of $75 per week.
Community Outreach Apprentices are an integral part of our team. As such, the work requires dedication and reliability.
Title: Community Outreach Apprentice
Locations: Traveling throughout the U.S. • Greater Los Angeles area, CA • San Francisco Bay Area, CA • Boston, MA and Maine • Albuquerque, NM • New York City, NY and New Jersey • Columbus, OH • South Carolina • Texas • Seattle, WA • Independent opportunities in your area • Australia • Mexico • India
Hours: 20–40 hours per week (exact amount to be determined prior to start date)
Time Frame: A commitment of three weeks is required. Our biggest need is for apprentices who can travel during the Spring and Fall school semesters.
Stipend: A stipend of $75 per week is payable after the successful completion of the outreach tour.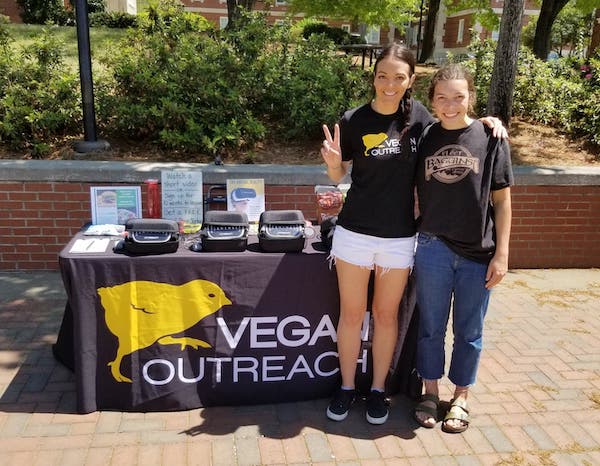 As a touring Apprentice, you will:
Develop interpersonal skills and gain valuable experience as part of a leading grassroots animal rights non-profit.
Perform high-quality one-on-one outreach alongside a Vegan Outreach mentor, primarily on college campuses, to gather sign-ups for our free 10 Weeks to Vegan program.
Staff Vegan Outreach information tables and help with virtual reality outreach at festivals, food sampling, and other youth-oriented events.
Cultivate an interest in Vegan Outreach's work through positive social media posts
Perform other internet duties as requested to further the mission of Vegan Outreach.
Handle all Vegan Outreach gear with care including virtual reality headsets, canopies, tablecloths, tables, and cooking equipment.
Position Requirements:
At least 18 years of age.
Commitment to Vegan Outreach's objectives, including our pragmatic approach of welcoming gradual change.
Friendly and personable demeanor and the ability to communicate effectively and work well with others.
Ability to stand or walk for hours at a time while leafleting.
Ability to lift and carry up to 30 pounds.
Reliable access to a smartphone with an Internet connection.
In some cases, a car, a valid driver's license, and auto insurance will be necessary.
Interns may be required to provide their own housing if in a fixed location.
Adherence to Vegan Outreach's Harassment and Discrimination Policy.
To apply: Please send a cover letter and your resume to Vic Sjodin at vics@veganoutreach.org. Please indicate your area preference and availability.
Learn about additional ways to get involved here!
More Information
Full Address

Davis, CA

Job Street Address

Davis CA

City

Davis